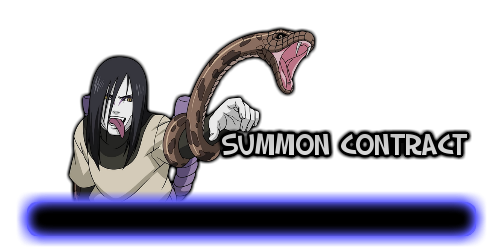 Contract Name:
Monkey Contract
Species:
Monkey
Requirements:
Must be Sarutobi Member or must be learn it by a Sarutobi member
Name:
Monkey King: Enma
Rank:
A Rank
Combat Skills:


-Ninjutu: Master

-Taijutsu: Master

Jutsu List:
Spoiler:


Name: Transformation: Adamantine Staff
Rank: S Rank
Type: Ninjutsu
Element: ~
Range: Self
Duration: Maintainable
Hand Seals/Charge up: Monkey
Description: Monkey King Enma's transformation technique, which is characterised by the hardness of diamond and its at-will ability to extend and/or expand the Adamantine Staff, is the Hiruzen Sarutobi's weapon of choice. This staff, when in use, was able to effortlessly destroy the wooden structures created by Hashirama, a Wood Release user, and also to overwhelm Kurama, sending him to the borders of Konoha, and destroying the branches of the Ten-Tails' tree form.

When Enma is transformed into the Adamantine Staff, it is possible for him to attack of his own free will using his claws and fangs which protrude from the staff itself, adding an element of surprise and irregularity. Forged in the fire of battle, its at-will transformation-based attack and defence go beyond the scope of proficiency, to attain the realm of shinobi "godhood". The main method of attack consists in strikes and thrusts that take full advantage of the ability to manipulate its size and length.

The hardness of diamond also translates into destructive power.
Weakness: Despite its hardness, Enma stated that he could still suffer pain from the Kusanagi, wielded by Orochimaru.

Name: Adamantine Prison Wall
Rank: A Rank
Type: Ninjutsu
Element: ~
Range: 5 M.
Duration: Maintainable
Hand Seals/Charge up: Monkey
Description: After transforming himself into an adamantine staff, Enma clones himself then boxes the enemy into a lattice. The prison wall has incredible toughness, and is impossible to break. When used for defence the enemy has no way of attacking.
Weakness: King Enma can still feel Pain, after a few attacks he will transform back.
Personality:
He is a long-time companion of Hiruzen, implying that he himself, is also rather old. Enma was fiercely loyal to Hiruzen, although he didn't always approve of his actions. He kept reminding Hiruzen about actions in regards to Orochimaru. Enma would have preferred to have killed him the first time when he got the chance to do so. Enma was seen in a flashback of Orochimaru's defection, urging Hiruzen to kill Orochimaru, which explains his current attitude. He is also quick to anger, as shown when he tried to break Orochimaru's neck, right after Orochimaru injured Hiruzen.
Appearance:
Enma's body and tail is covered by white fur which protrude from his sleeves and pants. He has long unkempt white hair that reached into his back and long sideburns and a goatee. He wears a black suit with mesh armour underneath, over which he wears a sleeveless kimono shirt with white fur trimmings, and markings reminiscent of tiger stripes on it which is held closed by a red sash. Enma also wears a Konoha forehead protector.


Last edited by Kaji on Thu Jan 29, 2015 2:30 pm; edited 1 time in total