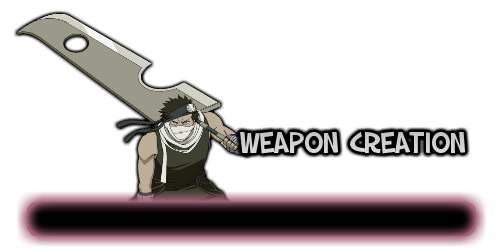 Weapon Name:
Kubikiribōchō
Weapon Type:
Seven Swords of The Mist
Weapon Rank:
S
Ability:
Like the other weapons employed by the Seven Ninja Swordsmen of the Mist, the sword possesses a unique power, this being its ability to reform itself using the iron harvested from the blood of its victims. This regenerative process takes place almost instantaneously and is capable of bringing the weapon back to its original condition no matter how severe the damage is, from a simple chip or nick to a complete separation of over half the blade. The sword also possesses high durability and is quite strong, able to cut through almost anything.
Regenerate:
The sword is able to repair itself after breaking. This is done by having blood on the blade. This happens instantaneously. (See Picture below)
Weightless:
The blade itself is triple the weight to anyone else but the owner
Ability Rank:
S
Weapon Description:
The blade itself has two cut outs, a circle close to the top and a semi-circular one nearer the handle, that aptly fit the sword's purpose of decapitation, as demonstrated through Suigetsu Hōzuki's use. The latter notch allows a strap to be wrapped around the weapon, making it easier for the user to carry. Its extremely long handle is also detachable to further aid transportation and then reattached when required for combat. However, despite being well-trained, Suigetsu noted that the weight of the blade could still tire him out easily; a problem Zabuza Momochi didn't have.
Materials used:
Iron
Weapon Owner:
Kaseki
Cost:
10,000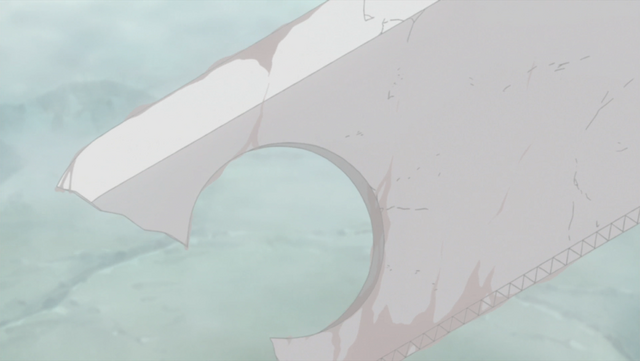 Last edited by Kaseki on Fri Dec 26, 2014 6:22 pm; edited 3 times in total