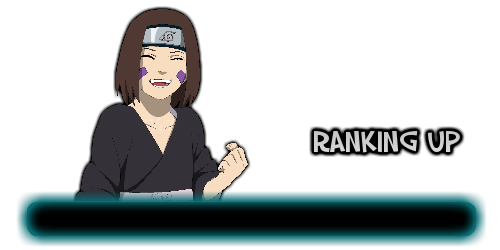 Here on Shinobi Gaiden you can rank up through doing missions. There is a set number of missions each rank has to do in order to rank up, once this number is met you may rank up. This number resets once your character has ranked up, so you don't gain the missions total you had before your rank up, and instead need to do the set number for the next rank up completely.
Genin(D) -> Chunin(C):
10 D ranks/Chunin Exams
Chunin(C) -> Special Jounin(B):
10 C ranks + 3 B ranks
Special Jounin(B) -> Jounin(A):
7 B ranks + 7 C ranks + 7 A ranks
Jounin(A) -> ANBU(A):
Only your Kage can make you an ANBU member.
Jounin/ANBU -> S ranked shinobi:
Requires a title (Kage, Anbu Captain, Sannin, Taijutsu Master, Puppet Master, Medic Master, Bukijutsu Master, Jinchuriki, more to come) You must also be an A rank shinobi before becoming S ranked, no skipping. So a master at taijutsu or a jinchuriki who is B ranked will not become S ranked once getting the title, they first have to become A ranked though will immediately become S ranked once doing the missions required of them to become A ranked.