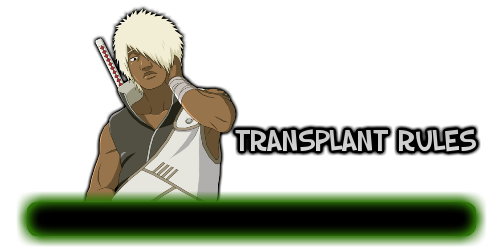 Surgery is performed whenever a medical procedure happens. This includes, but is not limited to; Transplants, major healings, and implants. For DNA transfers, you will need a vial of blood, or anything organic from the host, such an example is when Madara bit off a piece of Hashirama's flesh. Hair, fingernails and other things like that will not be accepted, and will not trasfer DNA. To preform an extraction of DNA, the post must be at least 100 words. This is to be overseen by a moderator, to make sure that is it enough for a sample, as well as allowed. A surgery requires at least 250 words for the surgeon. This is PER SURGERY. Meaning if you implant a Byakugan and a Sharingan, two separate surgeries will have to be completed. The higher your surgeon's rank, the higher the chance of a success. (NOTE: Only a Specialist in this field can transplant KKG in irregular spots, such as Danzo's Sharingan on his arm.)
Below is a table based on the roll number required to have a successful surgery. Basics in this field CANNOT preform a surgery under any circumstance, nor can a shadow clone.
| | | | | | |
| --- | --- | --- | --- | --- | --- |
| X | Novice | Intermediate | Adept | Master | Specialist |
| D-ranked | 10 | 8 | 7 | X | X |
| C-ranked | 9 | 7 | 6 | X | X |
| B-ranked | 8 | 6 | 5 | 3 | X |
| A-ranked | 8 | 5 | 4 | 2 | 0 |
| S-ranked | 7 | 5 | 3 | 2 | 0 |
NOTE:
If you are only required to roll a "1" or lower, you will not be required to roll. You will have a successful surgery.
When a surgeon gets a failed roll, a secondary roll will be done to determine if the patient dies or not. The second dice will be used for this. By rolling a 5 or higher, the patient lives. DNA samples will destroyed and not be able to be used for a future surgery.


Doujutsu transplanted are always active and cannot be deactivated, no matter what (Byakugan being the only exclusion) , they need to be covered through some means. When revealed, the doujutsu will take a lasting cost of 20CP every 2 posts. Starting from the post it was revealed.

Learning techniques of a transplanted KKG require 50% more Ryo/WC Training than it normally would. Same goes for elements of said KKG. This does not include limited. Techniques under this category will also receive no chakra reductions due to Combat Skills

When people of transplanted Advanced releases, those that have the most pure element will be stronger. [Pure > Non-Pure > Impure] Meaning a Senju's Wood dragon will defeat a transplanted Wood Dragon, as well as a Non-transplanted, Non-Senju wood dragon.

"Danzo Style Implants" or irregular placed transplants (such as sharingans on the arm or forehead) will cost and additional 25% of the original cost of upkeep to use the transplanted item. This allows sight and the use of techs for that object, (Be it an eye, or some weird extra limbs)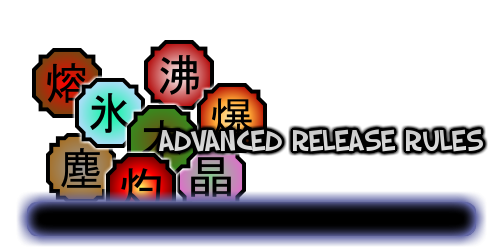 Advanced releases are those that mix more than one of the basic elements in order to form something stronger and more unique. Common examples are Lava, Wood and Steam. These are all mixtures of two elements. Dust is an example of a mixture of three elements.
In order to attain and advanced release, you must be one of two things:
- Part of a Clan that has an advanced release
- Be clanless
Obtaining Advanced Release via Clanless
You can train one advanced release without attaining DNA. You cannot "join" a clan at any time.  It is possible to pass down your Advanced release, however your DNA will be considered "Non-Pure" (See the next section for more information) You can learn the following elements:
Ice - Wind & Water
Boil - Water & Fire
Lava - Earth & Fire
Storm - Water & Lightning
Dust - Earth & Wind & Fire
(This may be updated from time, please check to see what has changed.)
Obtaining Advanced Release via Clan
To obtain an advanced through a clan, you must train it. No one can start with an advanced release. No exceptions. However if you have been transplanted DNA from a clan with an advanced release... you will have to follow a unique set of rules.
Pure DNA = 1 Point
Non-Pure DNA = .5 Points
Impure DNA = .25 Points
Now, I'm sure you're wondering what these points mean, and how they come into place. Well for starters, you can only obtain a blood sample from one person, once per thread. To preform a DNA transplant, you must have at least 2 points of samples. If the user is directly from the clan, the sample is "Pure". If the user had obtained the Advanced Release without a clan, the sample is "Non-Pure." If you have obtained the sample from someone who has had the DNA transplanted into them, then the sample is considered "Impure." By mixing samples, you can obtain enough to pass down the ability to another.  However, each sample taken MUST BE FROM SEPARATE USERS. (Note: A full body can give up to five samples.) This means that each samples has to be from different people. Even if Senju Ninja A gives you 14 DNA samples, you cannot obtain Wood Release until you receive a sample from Senju Ninja B.
NOTE:
The transplanted release will need to be trained. You must know the elements to preform the Advanced release before training.


Last edited by Kaseki on Sun Jan 18, 2015 12:34 pm; edited 2 times in total