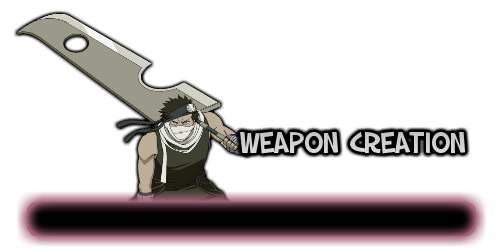 Weapon Name:
Hiramekarei (ヒラメカレイ)
Weapon Type:
double-handled sword
Weapon Rank:
S.
Ability:
The sword is capable of storing chakra and the two holes at the tip of the blade emit it on command. This can then be formed into various weapons, including a hammer or a longer sword. The size of the resulting weapon appears to depend upon the amount of chakra stored up beforehand, meaning a larger quantity will be met with a similar increase in the weapon's ultimate size. These weapons are also formed with notable speed.
The user unleashes the sword, Hiramekarei, by emitting a large quantity of chakra on either side of the blade, from the two holes located near its tip, before shaping this chakra around it in the form of any weapon the user chooses. This results in the bandages that are typically wrapped around the sword, swiftly unravelling due to the rapid discharge.
Ability Rank:
S.
Weapon Description:
The weapon features a wide, flat blade with two curved indentations near its base, creating a sort of cross-guard. Two handles are connected to one another by a short length of cord, earning it the title of "twinsword" (双刀, sōtō). The overall sword looks like a flounder fish in shape and is also apparently very heavy, as Chōjūrō tires easily when carrying it for extended periods of time. When unleashed, it emits chakra from the holes found at the top which coats the entire blade.
Materials used:
Metal
Weapon Owner:
Ragna, Terumi
Cost:
10,000


Last edited by Death Scythe on Fri Dec 26, 2014 6:29 pm; edited 3 times in total